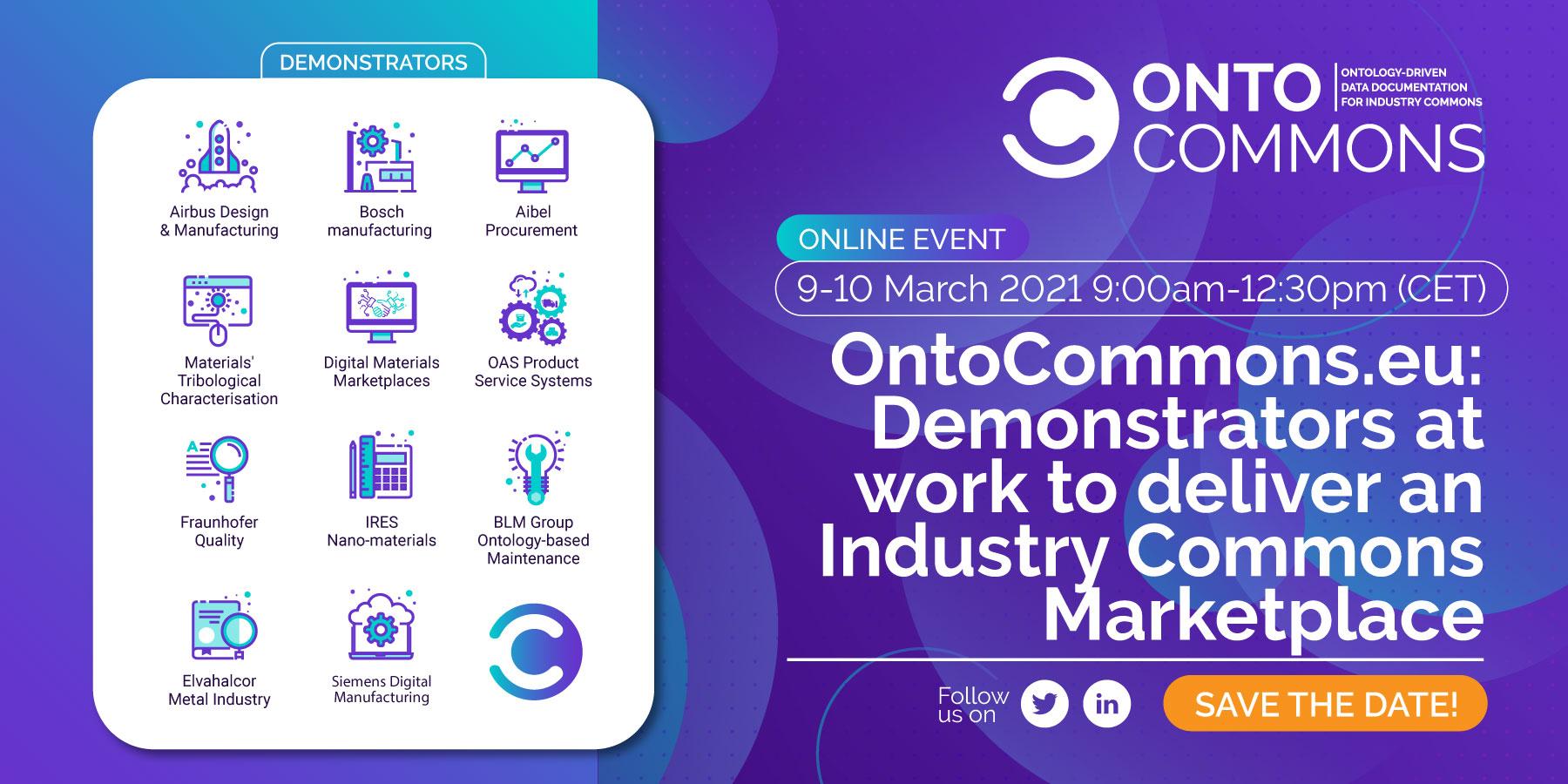 The OntoCommons' Workshop on Demonstrators and Use Cases presents real world industrial use cases that benefit from the use of ontologies.
The workshop represents a unique opportunity to better discover the OntoCommons' demonstrators and allows the participants to get in contact with experts of the sector.
Why is it relevant to join?
Participants can learn more about the OntoCommons project and gain more information about the use cases which adopt ontologies through dedicated presentations.
The presentations explore the manufacturing, materials, nano-safety, factories of the future domains through real case examples coming from industrial partners (Airbus, Bosch, Aibel, OAS, BLM Group,  ElvalHalcor and Siemens). Thanks to this, the attendees can get introductory presentations on ontologies and ontology tools from research experts and can learn more about current best practices.
Which stakeholders should join?
people from the industrial sector who are already using ontologies
people from the industrial field who want to know how they could benefit from the use of ontologies
people who are already developing industrial use cases  
people from academia/research who are working in the field of ontologies
What's in for the participants?
All the attendees will get the unique opportunity to:
get in contact with the European research experts in the ontologies and ontology tools areas
get in contact with potential industry partners from the ontology field
discuss their own use cases ideas, the use of ontologies, ontology tools and best practice with experts from the OntoCommons project in the open "call the expert" session

Agenda
09/03/2021
9:00 am - 12:00 am

Short introduction on the project and the role of the use cases - Umutcan Simsek, Universität Innsbruck
Presentation of the 11 OntoCommons use cases:
10/03/2021
| | |
| --- | --- |
| 9:00 am - 9:30 am | Ontologies: a brief introduction - María Poveda-Villalón, Universidad Politécnica de Madrid (download the presentation) |
| 9:30 am - 10:00 am | Tools for Ontology Engineering - Mathieu d'Aquin, NUI Galway (download the presentation) |
| 10:15 am - 12:30 pm | Open session "call the expert": the session allows the general public to get in contact with an expert from the project through a Q&A session  |