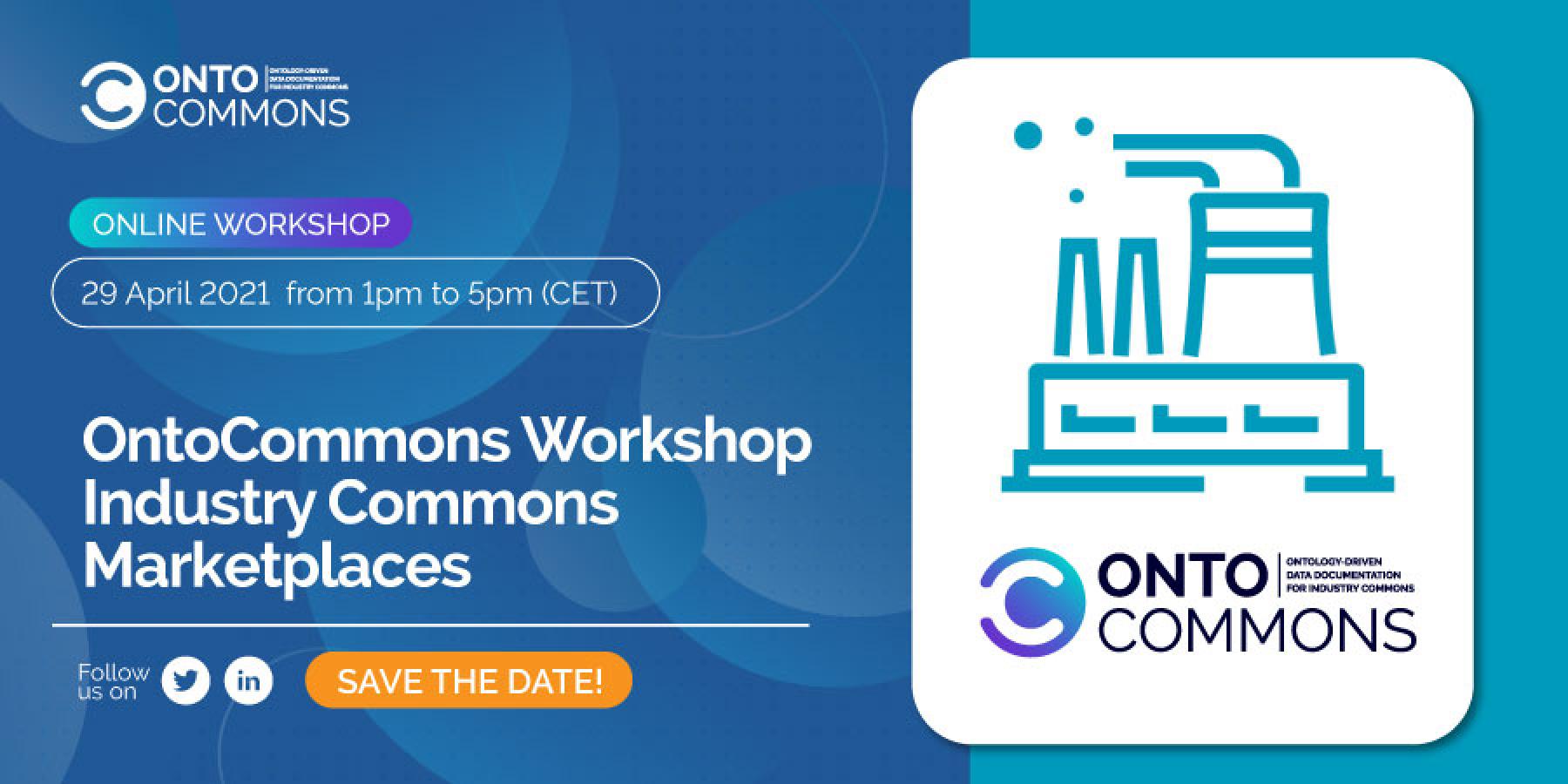 Digital Marketplaces are multisided collaborative and trading platforms that facilitate materials innovation by easing access to otherwise disparate sources and deployments of information, expertise, software applications and data.
There are multiple marketplace projects running at the moment, with only limited interaction between each other. OntoCommons aims to establish a cooperation with all the relevant stakeholders for data documentation and interoperability in industrial domains. This workshop aims to kick-start the communication between OntoCommons and the digital marketplaces, and to ensure the uptake of the OntoCommons project results. 
Main discussion points of the Industry Commons Marketplaces workshop
Experiences of the marketplaces so far
Interaction between marketplaces (Global ontology framework / Common API)
Marketplaces Knowledge Graph (Linking marketplaces, services, datasets etc.)
Draft Agenda
1:00pm - 1:05pm
Welcome
1:05pm - 1:20pm
Introduction to OntoCommons
1:20pm - 2:55pm
Introduction to the Marketplaces (Marketplace, VIMMP, Market4.0, Dome4.0)
2:55pm - 3:00pm
Introduction to the breakout sessions
3:00pm - 3:10pm
Break
3:10pm - 4:10pm

Group Discussion:

Group 1: Marketplaces Knowledge Graph (Can there be a global Marketplaces Knowledge Graph? Providing links to between marketplaces and related services, datasets etc.)
Group 2: Marketplaces Ontology framework (How could a global ontology framework for marketplaces look like? How can marketplace ontologies be aligned using a TRO?)
Group 3: Common API for Marketplaces (How can Marketplaces interact? Global search?)
Group 4: Demonstrators (How can we demonstrate the benefits of the OntoCommons EcoSystem in the showcases of the marketplaces?)

4:10pm - 4:20pm
Summary recap from each group
4:20pm - 4:30pm
Break
4:30pm - 4:50pm
Presentation of results
4:50pm - 5:00pm
Final discussion about new OntoCommons demonstrators and regular web meetings
5:00pm
Conclusion
Registration is required to access this content.
Please log in with your Expert account or create an account to join our community as an Expert Stakeholder.