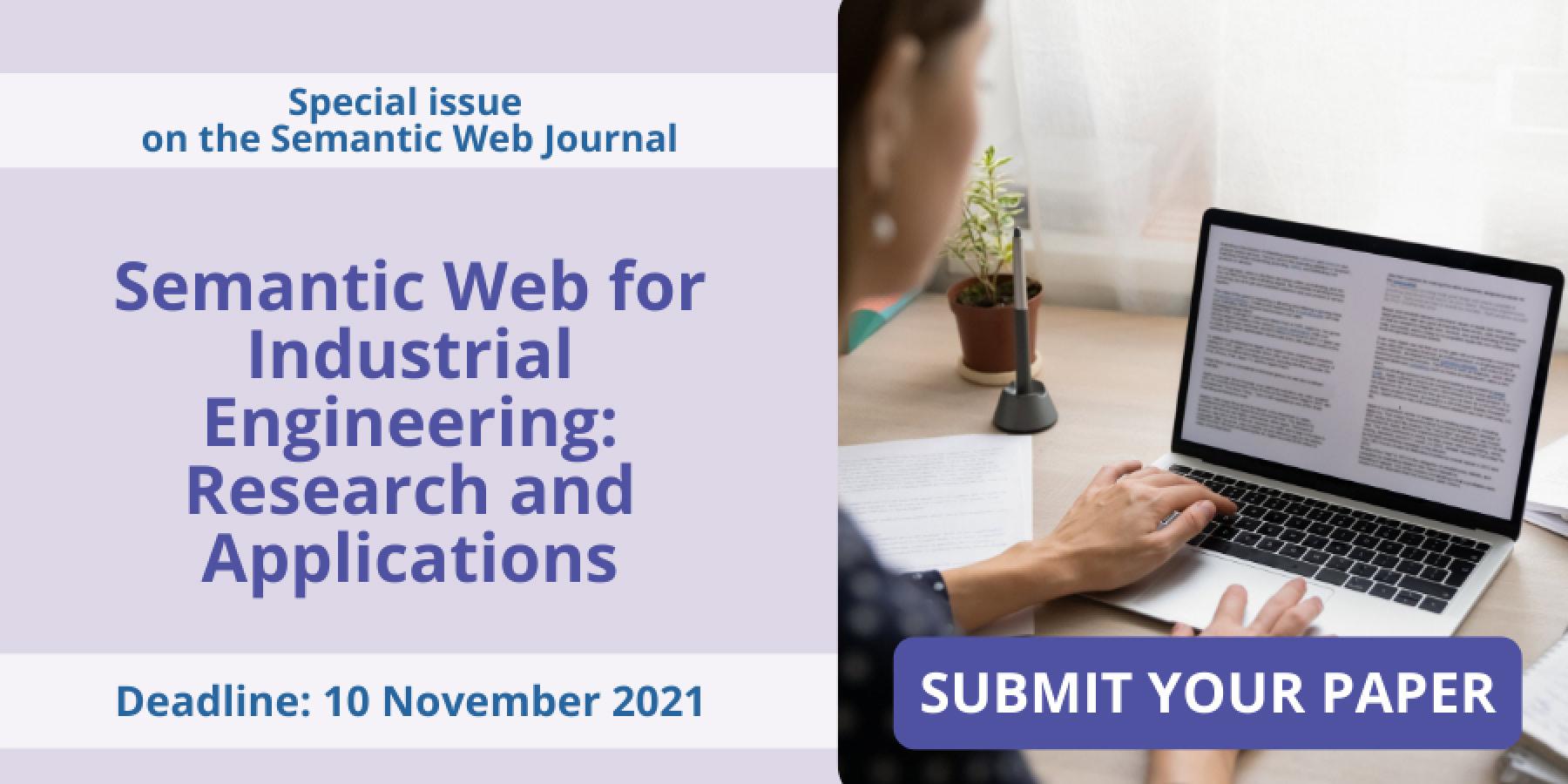 The Semantic Web is increasingly used for research and applications in industrial engineering covering several tasks related to knowledge-based data management. It is sufficient to recall worldwide efforts related to Industry 4.0 aimed at the development of industrial environments where machines are designed to smoothly interact between themselves and with humans via knowledge models. At the same time, however, practitioners and stakeholders lack methodologies and guidelines to reliably develop, use or integrate (existing) ontologies. In addition, when ontologies are developed within specific application contexts, they are hardly accessible and reusable by third-parties. Recent initiatives like (the European project) OntoCommons, the Industry Ontologies Foundry (IOF), and the UK National Digital Twins, among others, attempt to improve this situation, e.g., by collecting methodologies, ontologies, and tools to facilitate the exploitation of the Semantic Web for industrial needs.
The purpose of the Special Issue is to collect contributions on the use of Semantic Web languages and technologies within industrial engineering areas such as discrete manufacturing (e.g., aerospace, automotive, machinery, electronics), continuous production (e.g., chemical engineering, oil and gas industry), product design, Architecture, Engineering and Construction (AEC), among others.

Topics relevant to this special issue include, but are not limited to, the following:
Research and application challenges for the industrial exploitation of Semantic Web languages and technologies, including Industry 4.0 scenarios.
Semantic Web as an enabler for Digital Twin applications in industry.
Semantic Web frameworks (including frameworks adopting the FAIR principles) for knowledge-based industrial data management, covering tasks such as data modeling, sharing, integration, systems interoperability, reasoning about data and knowledge.
Data analysis workflows supported by the Semantic Web.
Novel technologies for Semantic Web applications in industry.
Bridging methods between Machine Learning and the Semantic Web tuned to industrial engineering.
Real cases of successful/unsuccessful use of the Semantic Web in industrial engineering applications
Ontologies for knowledge representation and reasoning about topics relevant for industrial engineering (e.g., products, processes, manufacturing resources, requirements and capabilities, etc.).
Ontology-based patterns for industrial engineering knowledge representation.
Methodologies, methods, and techniques targeted to industrial contexts supporting the development, modularization, extension, and evolution of ontologies.
Literature review of existing ontologies for industrial engineering, including structured comparisons.
Experiences with the use of top-level ontologies (e.g. BFO, DOLCE, ISO 15926, among others) in industrial engineering.
Experiences with research and application initiatives such as OntoCommons, the Industry Ontologies Foundry (IOF), and the UK National Digital Twins.
Guest editors:
Important dates
Submission deadline: November 10, 2021 (papers submitted before the deadline will be reviewed upon receipt)
Contact information: semantic-web-for-industrial-engineering-swj[at]googlegroups[dot]com