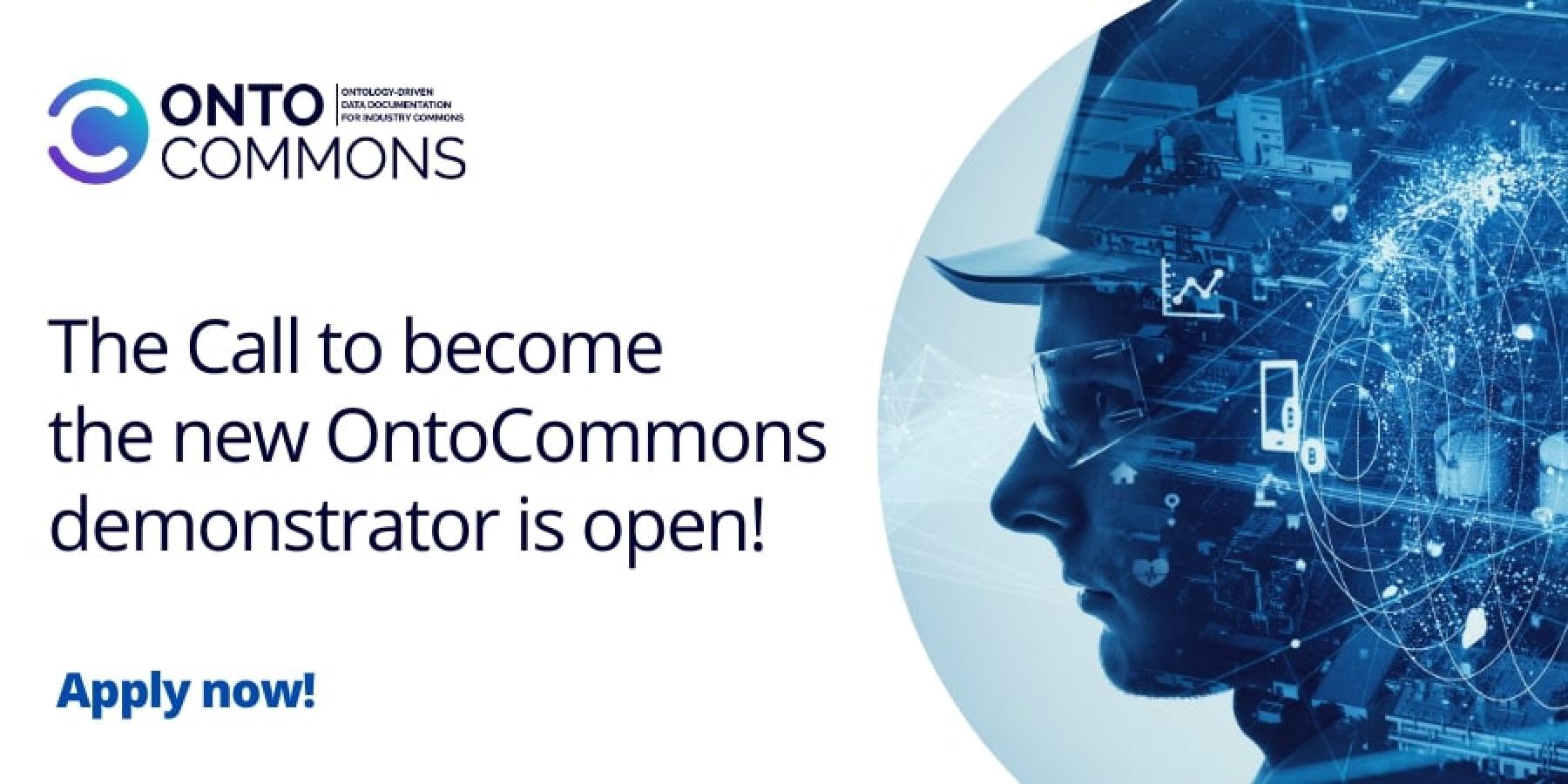 What is OntoCommons? What is this call about?
OntoCommons aims to contribute to ontology-based data documentation and improve the seamless communication and interoperability between industrial systems and stakeholders by providing reference ontologies and best practices for ontology and tool development in NMBP (Nanotechnologies, Advanced Materials, Biotechnology and Advanced Manufacturing and Processing) domains.  The results of these efforts will be documented as a roadmap to guide the industrial and academic stakeholders in their future endeavors. OntoCommons consortium recognizes that such a roadmap has to be built while considering concrete requirements and needs from industry use cases. Therefore it relies on a set of demonstrator use cases as a basis for developing and verifying the proposed guidelines. 
The objective of this call is to collect such demonstrators with use cases in the NMBP domains that are aiming to achieve interoperability between software, stakeholders and various metadata standards with the help of semantic technologies.
Why should you become a demonstrator?
Becoming a demonstrator for OntoCommons comes with many benefits, but most prominently: 
Getting access to a group of experts in semantic technologies, particularly ontology development
Network with other companies in your domain
Participation in project workshops and visibility gain
Increase the Technology Readiness Level (TRL) of your use case
Have an impact on the OntoCommons roadmap in NMBP domains
Access to guidelines and advices for improving the FAIR (Findable, Accessable, Interoperable, Reusable)-compliance of your data and metadata 
Engage with the work of  various standardization bodies
Should your application be selected to become an additional OntoCommons Demonstrator, we would display your results in our outreach communications plans, we would ask you to provide a demo and showcase your results at relevant OntoCommons events and include the achievements in the demonstrators report we will deliver as part of our deliverables. Additionally, you will have the chance to influence the development of guidelines and best practices, as well as reference ontologies (top, middle and domain level) for NMBP domains. 

Who can be an OntoCommons Demonstrator?
A demonstrator is an organization (e.g., a company, consortium) with an industrial use case that makes (or plans to make)  use of semantic technologies to address an industrial challenge (e.g., interoperability between different actors, data integration, decision support). The demonstrators should already have a commitment and financial resources allocated to solving the challenge presented with their use case. This commitment can come from the internal resources of the demonstrator or provided by public funding (e.g. EU funding). The demonstrators must also be ready to make some details (e.g., brief description, goals, main challenges, name of involved data sources and ontologies, expected benefit from OntoCommons) of their use case publicly available. We apply  the following criteria for selection:
Relevance to the OntoCommons project topics. We expect use cases from NMBP domains. 
Representative coverage of various domains. Although use cases from any NMBP related domain are welcome,  we aim to have diversity in the domains covered under these domains. 
Diversity in the technology requirements. We aim to cover a large, diverse range of challenges that can be solved with semantic technologies. 
Appropriate Technology Readiness Level (TRL). The demonstrators should have TRLs that are in-line with the expectation of the OntoCommons project (starting at 3-5 and targeting 6-7 for the end of the activity).
Geographical distribution. The demonstrators shall be geographically distributed, to cover different EU and non-EU states, to ensure the representative collection of the requirements and awareness of the various national developments.
Contribution to the goals of the project, cooperation potential with other workpackages. The demonstrators will be selected considering the expectations towards their potential to contribute to various aims of the project, particularly, in different workpackages. Thus, demonstrators working with various ontologies will be relevant.
Feel free to check the presentation made by our initial demonstrators, to have an idea about what a demonstrator looks like: https://ontocommons.eu/ontocommons-demonstrators. As an OntoCommons demonstrator, you are mainly expected to do the work on your use case to which you are already committed. You will be informed by us regarding the developments in OntoCommons Ecosystem and will have chance to align your use cases with the best practices and guidelines developed by OntoCommons. You are additionally expected to join some workshops and meetings (travel funding might be available) and fill some short surveys every once in a while. 
The decision on the demonstrator selection will be made by the OntoCommons consortium according to the timeline below.

Timeline
Decisions on which new demonstrators to join the project are made until: 31.10.2021
Work with the new demonstrators starts on: 01.11.2021
Final validation of the impact of OntoCommons results on demonstrators until 30.09.2023 

For any questions, please contact us:
Anna Fensel - anna.fensel[at]sti2[dot]at or
Umutcan Simsek - umutcan.simsek[at]sti2[dot]at