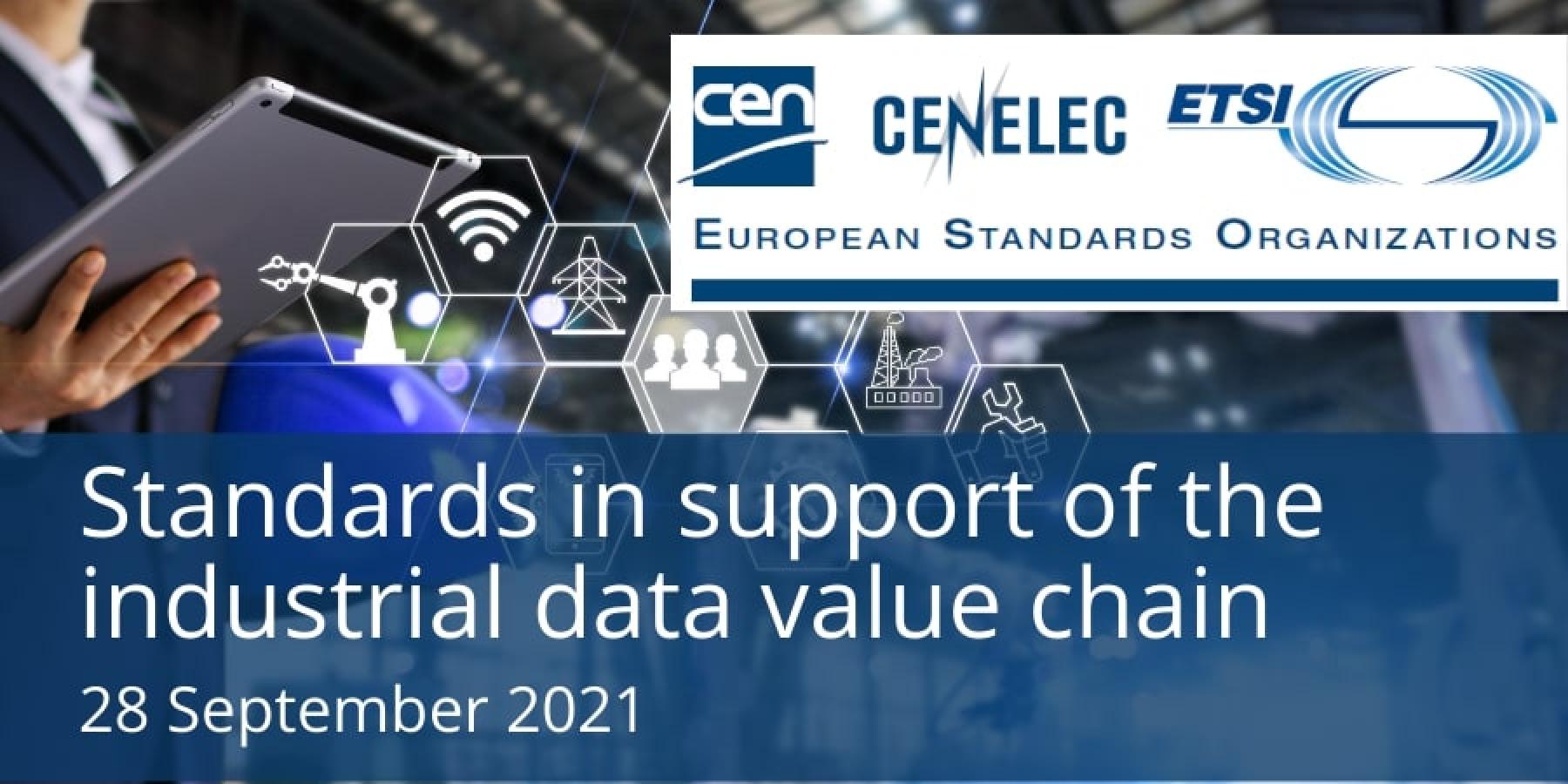 Industrial data supports processes and delivers insights to improve efficiency. It plays a strategic role in providing the key to success in a harmonised Single Market and European competitiveness in the global market.  

In order to exploit the full potential of industrial data, European stakeholders need a common approach that enables trust, quality, and interoperability along the entire data value chain. The OntoCommons project, among which other European associations (like GAIA-X) and European Standardisation Organisations (like CEN, CENELEC and ETSI) try to find solutions to expand the standardisation in the industrial data value chain field.

For this reason, CEN, CENELEC and ETSI are organising a stakeholders' workshop that identifies the cross-sectoral gaps and opportunities for the development of new industrial data standards in a global context.

All interested stakeholders are invited to join.
---
Draft agenda
Moderator: Jennifer BAKER
13.45-14.00 GET SETTLED-IN FROM HOME
14.00-14.15 OPENING WORDS: STANDARDS FOR INDUSTRIAL DATA
Welcoming words from the European Standardization Organizations, CEN, CENELEC and ETSI, to set the scene on the strategic value of standardization in support of the Digitization of Industry, and in particular Industrial Data
- Dany Sturtewagen, CENELEC President
- Neviana Nikoloski, Chair of ETSI General Assembly (tbc)
14.15-14.30 KEYNOTE SPEECH: THE EUROPEAN INDUSTRIAL DATA STRATEGY
This keynote speech will highlight the European regulatory framework, current and future EU policies for Industrial Data. It will address the strategic value of standardization in further contributing to the EU objectives for the Digitization of Industry
- European Commission High-level representative
14.30-14.45 PRESENTATION: GAIA-X, A FEDERATED DATA INFRASTRUCTURE FOR EUROPE
This high-level presentation will highlight the GAIA-X initiative, its scope and activities, as well as the key role of European standards in creating the next generation of a European data infrastructure.
- Francesco Bonfiglio, CEO, European Association for Data and Cloud (GAIA-X)
14.45-15.25 BUILDING ON BEST PRACTICES – SECTORAL CASE STUDIES FOR INDUSTRIAL DATA
These case studies will provide 3 sectoral perspectives and showcase good practices, as well as the current and future challenges and key opportunities for transformation of using, sharing and saving Industrial data in different sectors.
BOOST BREAK
15.35-16.30 PANEL DISCUSSION: INDUSTRY CHALLENGES & GAPS FOR A SUCCESSFUL EXPLOITATION OF INDUSTRIAL DATA
This Industry panel will discuss the challenges and opportunities that come with Industrial data across sectors, such as security, interoperability or quality. Based on their varied experiences, panellists will identify cross-sectoral synergies and key common obstacles & gaps that need to be addressed by Standardization, and in particular the European Standardization Organizations, to build a trustworthy and reliable Industrial data value chain.
16.30-17.05 FIRESIDE-CHAT: THE ROLE OF STANDARDIZATION TO SUPPORT THE DATA ECONOMY
Building on the Industry needs highlighted in the previous panel, this fireside-chat will bring together Standardizers and Policy Makers to discuss initial ideas for ways in which standardization solutions can further support Industry stakeholders in fully benefitting from Industrial Data, as well as present on-going standardization activities for Industrial Data at European and International level.
17.05-17.15 CLOSING REMARKS
Wrap-up of the day and next steps for CEN, CENELEC and ETSI
- Wolfgang Niedziella, CENELEC President-Elect
- Neviana Nikoloski, Chair of ETSI General Assembly (tbc)